"From each according to my need, to me according to their ability!"

VLADRUSHKA
Biography of Very Famous Siberian the Star of Many Pornographic Movings.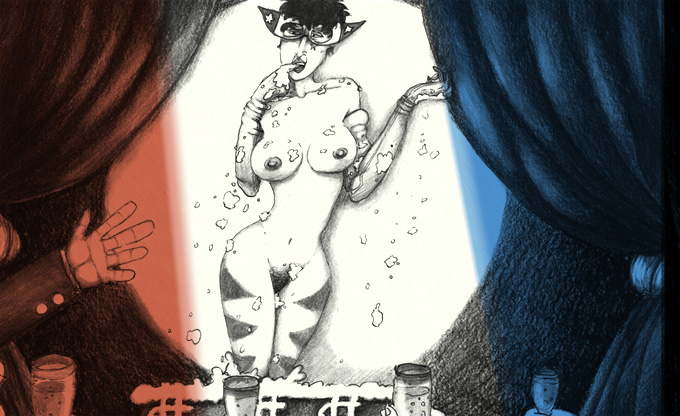 Selected Filmography (All directed and written by Yuri Dmitri Myshkin):
Omsk Bathroom Girl (1979)
Sucking Stalin (1980)
The Daughter of the Filthy Kulak (1980)
Comfort Girl NKVD (1981)
Forward! Forward!
(1981)
To Revolt Is Glamorous
(1982)
You Not Do This, Comrades (short, 1982)
Red Army Barracks (1983)
Present Arms (1984)
Sins of Stalingrad (1985)
Berlin Decadent Anti-Social Behavior (1985)
The Last Orgy of the Spartacists (1986)
CIA Pimp (1987)
Gulag Gangbang
(1988)
The Erotic Adventures of Sleeping Beauty (1990)
The Tragic Childhood.
Vladrushka Valentinovich Vostok (b. January 22, 1962, Novaya Zemlya, former U.S.S.R) is a veteran pornographic actress hailing from the former Union of Soviet Socialist Republics. Born to an imprisoned nuclear scientist and a female guard, she was orphaned when, upon finding out of their liason, the recently-divorced head of the nuclear testing facility decided to measure the effects of a nuclear blast on a happy couple. Vladrushka was raised in a secret Olympics training orphanage in Omsk, using the latest in Soviet gymnastic technology on girls from around the Iron Curtain. A sister was sent to an unspecified location; no records exist of her whereabouts. Though developed for the 1980 Olympic Games, Vladrushka had to withdraw suddenly, as did her coach, when their unorthodox method of floor exercises was accidentally discovered.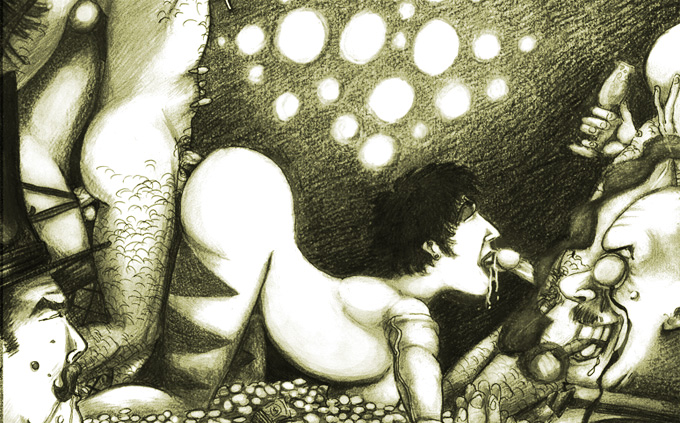 The Auteur
Always by nature a friendly girl, and inspired by her hero, the American film star Georgina Spelvin, she met PPP(Progressive Political Pornography) co-founder Dmitri Yuri Myshkin on the other side of a glory hole in the men's lavoratory of a downtown Omsk cafe. Following this impromptu audition, for which Vladrushka still complains about not being paid, Myshkin decided to involve her with many collaborations in the headquarters of the PPP. He also decided to film some of it, editing the footage into a series of films that, in East Germany, were described as "indescribable," another hailing Comfort Girl NKVD, Sucking Stalin and Cheka Delight in particular as "abominable."
Putin's Plan
These reached the attention of young Dresden KGB operative Vladimir Putin, who later claimed to have done "prodigious research" into her work. Sending altered versions of the reviews to Myshkin pretending to be an important schiesse producer, he lured Myshkin and Vladrushka to East Berlin and made them an offer which the guns to their heads made it difficult to refuse. But those became unnecessary when a suddenly aroused Vladrushka went down upon Putin readily, and once Myshkin had been given a dry pair of pants, a deal was signed, as well as a list of names he gave to Putin of his fellow members of the PPP. They were executed in a dirty basement five days later, after being tried and convicted for corrupting a minor.
Putin's plan was a simple one, and designed to raise his status in the KGB. The labor camps across Siberia that built all of the U.S.S.R.'s railways, heavy machinery, consumer goods, that mined its ore, made its electricity, and tested its bombs, was suffering a labor shortage, due to liberalized policies and increasing obedience on the part of the population. The Party had cleaned up public mores too well. Nobody was being arrested, and the laborers in the north were gradually dying off. A decadent influence had to be introduced into Soviet society. If no one could be arrested, how would the roads get paid? Who would smelt the steel? Putin decided that Myshkin and Vladrushka's pornographic films, all works of strong, if frivolous, anti-Soviet satire, were just the thing to inspire the young to criminal acts of individualism. Otherwise, how was the Trans-Siberian Railway to be maintained?
The Superstar
Overnight her films were promoted to the hilt in East Germany, and people flocked to see them because they felt they were being daring. However, the patrons were required to register their names with their tickets, which helped Putin narrow down whom he would arrest much later, once the filth they had watched did its work. Myshkin and Vladrushka went on to make many, many more films, culminating in what is universally acknowledged as the best they could do, Gulag Gangbang. Because of Vladrushka's constant requests for retakes, and exhausting of male co-stars, the budget of the film went so high that Gorbachev, always skeptical of Putin's pet project, but not wanting to raise the ire of the KGB, was forced to use nearly the entire defense budget of the Soviet Union for one year to pay for it. This included his own bodyguards, and the rest is history.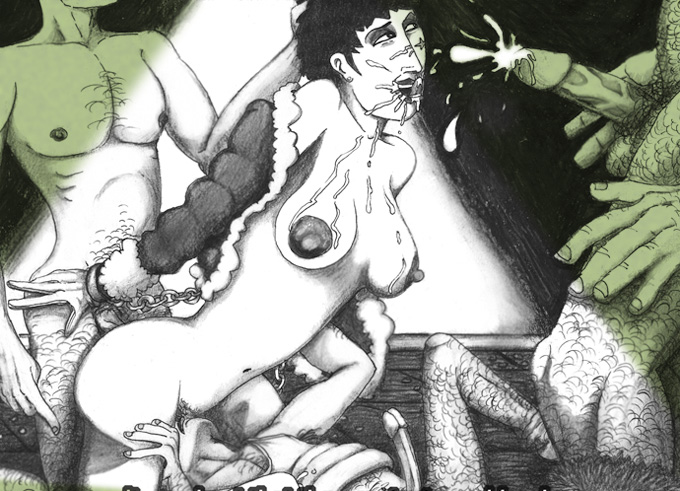 The Dreamers
With the end of the Soviet Union came the end of Myshkin's "pornoganda." After many years of eking out a living doing numerous DVDA clips with rarely-paid soldiers(and having them pay Vladrushka for performing with her; few knew they were being filmed), the two of them finally managed to escape to America. Myshkin and Vladrushka's dreams continue undaunted as they seek funding for the grand, epic pornographic film they both know they world is just waiting to see. The fact that she gets to fuck everyone in Hollywood to do it is Vladrushka's little bonus, and one she insists upon.
She is now living in Hollywood and reunited with her long-lost, now adult fraternal clone daughters London and Berlin, who are turning out every bit their mothers' girls, to the terror of all. Except their proud mother.
(c)2007 John Linton Roberson.
All Rights Reserved.